The Three Chord team of expert blenders, coopers, and sensory professionals have developed a multi-step process we call "Perfectly Tuned Taste." Our process begins by carefully selecting the finest bourbon and rye whiskeys from stocks in Kentucky, Tennessee, and Indiana. Once the blend of spirits is assembled, 300 gallons at a time, we apply our proprietary process of pyrolysis — heating American oak to precise temperatures to release specific flavor and aroma compounds — then we blend it to integrate these compounds into the blended spirit. Finally, each small batch blend of Three Chord is evaluated by a trained sensory panel to ensure an uncommon depth of flavor, character, aroma and a "Perfectly Tuned Taste" in each bottle.
Small Batch Handcrafted Bourbon and Spirits
When I first began playing guitar, I realized that if I could learn to play three basic chords — the roots of the blues — feel their meaning, perfect their sound, I could have a career in music. I also recognized that the beauty of the perfect melody, the arrangement of those notes and vibrations of those tones, could impact one's mood and elicit powerful emotions. One night as I was sipping bourbon with friends, the conversation naturally turned to music. Sound. Vibrations. I had an epiphany: take that same philosophy of making music and apply it to blending bourbon. Use the concept of sound and vibrations that affect our hearts and souls to alter and enhance the structure of bourbon. I understood how bourbon aged in wood. Could rhythmic disruption blend a bourbon that embodies the influence of those three chords: balanced, bold, and Perfectly Tuned? What did we know about bourbon? Well, we knew we loved it. Did we know if we could develop an innovative process using rhythmic disruption that would create a distinctive taste profile? Maybe. But we wanted to do more than just create another bourbon. We wanted to shake up the industry yet maintain respect for the tradition and legacy of heritage bourbons. To look at the process differently. To create a taste profile comparable to the finest bourbons in the world. To craft a new classic bourbon with the same precision and passion with which I create music. The product we created is Three Chord Bourbon. The process with which it is blended we call "Perfectly Tuned Taste." – Neil Giraldo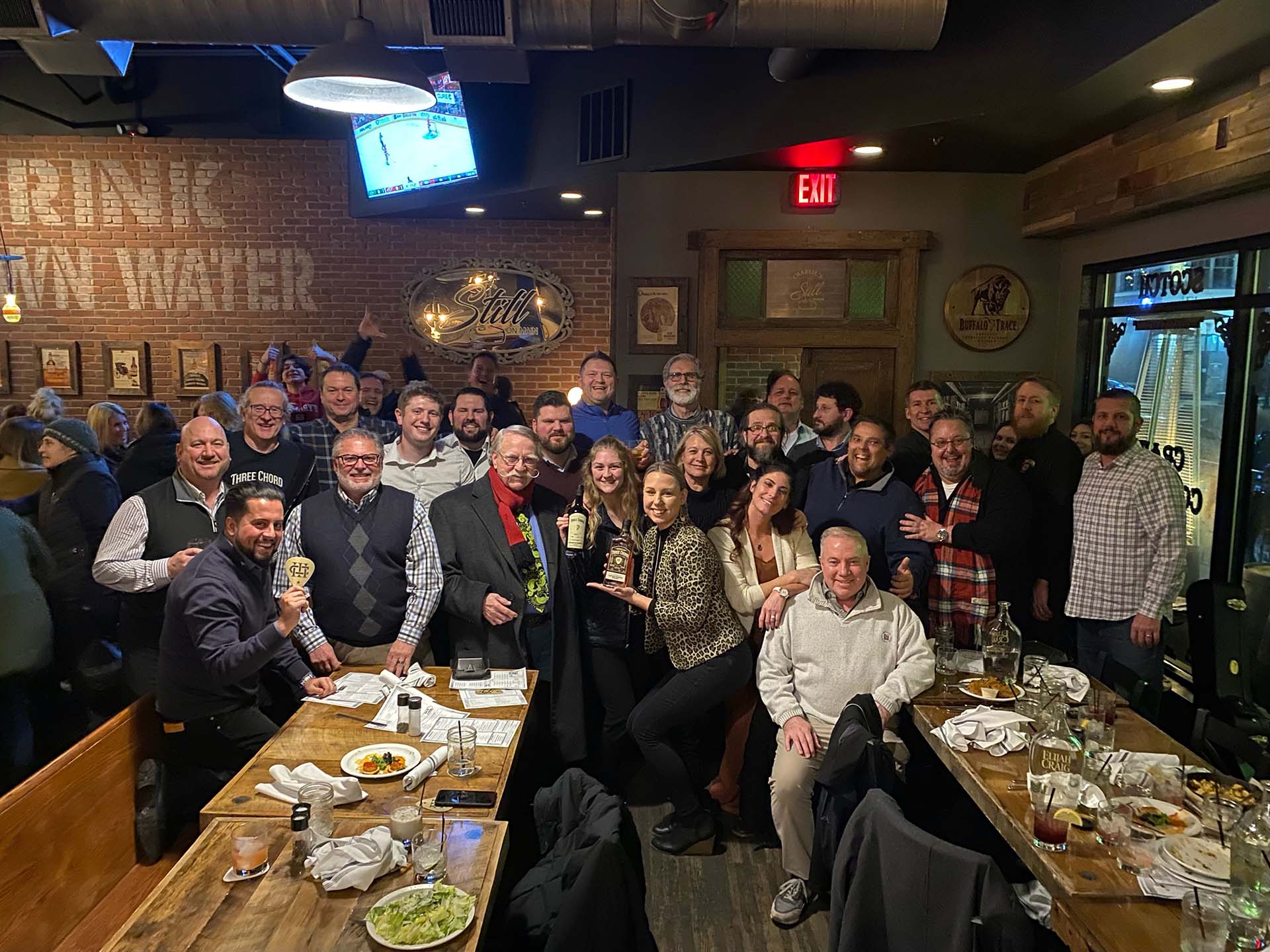 94 points by Whiskey Advocate
Three Chord 12 year old Twelve Bar Reserve Barrel-Proof Straight Bourbon (Batch 0007), 53.5%
Butter pecan ice cream, peanuts in the shell, oily grain, milk chocolate, cooked orange, cherry tart, and blueberries on the nose. The palate is spiced, nutty, and chewy, with milk chocolate, orange soda, cherry cough drop, baking spice, brown sugar, a hint of eucalyptus, and loads of peanuts. More rich spice, chocolate, and fruit on the finish, along with peanut butter, spearmint, and generous oak. Not a hair out of place.
93 points by Tastings
Three Chord Amplify Rye Whiskey (Batch 0015), 47.5%
Golden amber color. Aromas and flavors of rye crisps, baked apricot, nutmeg, fresh dill, and sage with a satiny, crisp, fruity medium body and a sleek, compelling, medium-long finish. A smooth, well-integrated rye with both spicy and delicate flavors that delight the senses; practically cognac-like.
93 points by Whiskeycast
Three Chord Blended Bourbon (Batch 0007), 40.5%
This Bourbon created by musician/producer Neil Giraldo, distiller/blender Ari Sussman, and their colleagues at Steel Bending Spirits takes sourced Bourbons and blends them together, then hits them with tonal vibrations designed to bring out desired flavors in the final whiskey. The nose has notes of caramel apples, honeycomb, soft spices, and hints of orange peel and oak. The taste is smooth, velvety, and sweet at first, followed by spicy notes of ground peppercorns and chili powder that build up nicely while not overpowering the sweeter notes underneath for an excellent balance and complexity. The finish is long and lingering with gentle spices, caramel, and honey sweetness. An excellent debut! (December, 2018).