Southern Distilling Wins Top Honors At NY World Spirits Competition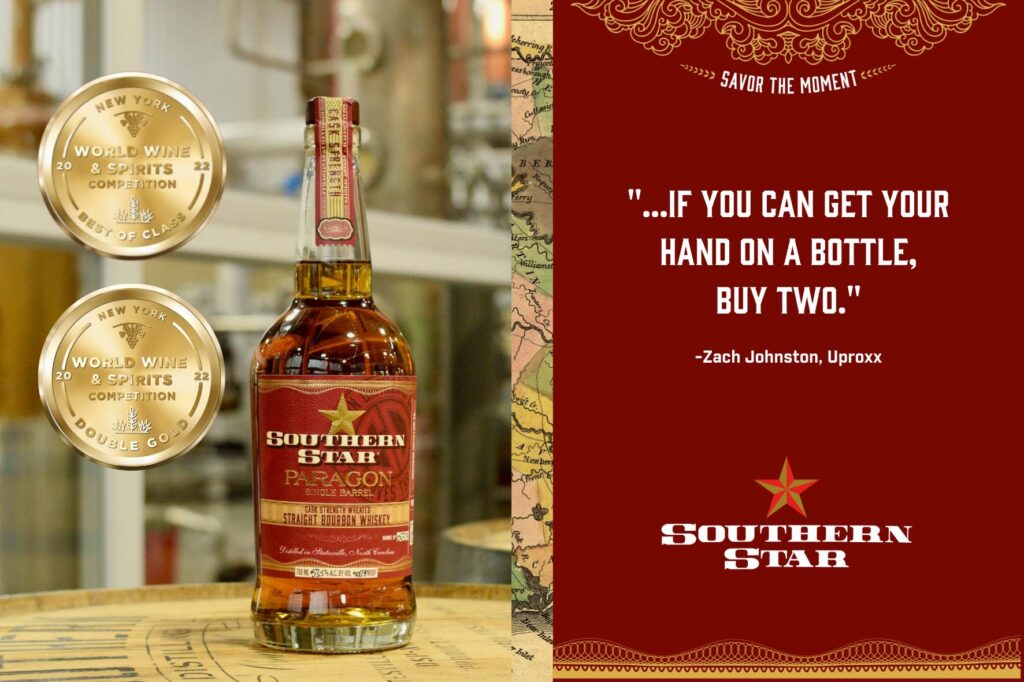 A new-to-market wheated straight bourbon whiskey from Southern Distilling Company has triumphed on an international stage, taking top honors at the New York World Wine & Spirits Competition (NYWSC).
Southern Distilling Company's Southern Star Paragon Cask Strength Single Barrel Wheated Straight Bourbon Whiskey was recognized as Best In Class (Best Single Barrel Bourbon Up to 10 Years) and Best Overall Bourbon out of a field of more than 650 spirits.
"This is a wonderful win for Southern Distilling Company," says Vienna Barger, who co-founded the Statesville distillery in 2013 with her husband and business partner Pete Barger. "We love wheated bourbons and chose this mash bill as the first one to distill at our facility. As it reached five years in the barrel and was ready to bottle this year, we were very eager to hear what industry judges had to say about what we believed was an extraordinary bourbon."
The NYWSC is part of The Tasting Alliance, which oversees numerous competitions and events including the San Francisco World Spirits Competition and Tales of the Cocktail in New Orleans. Panels of judges taste pours double-blind, meaning all judges unanimously and anonymously gave that pour a gold medal, and then it is moved to the best in show round. Southern Star Paragon Cask Strength Single Barrel took top honors in the finals too, joining brands like Uncle Nearest, W. L. Weller and Blanton's in the elite winners category, as well as being pronounced Best in Class (Single Barrel Bourbon under 10 years) and Best Overall Bourbon.
Southern Distilling Company is rapidly expanding its national and global distribution footprint, and Southern Star products are now available in 20 states.